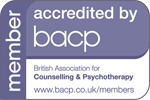 Counselling
I work with individuals and couples who have experienced difficulties with many different issues. Counselling can help to gain a sense of perspective in your life and see issues more clearly.
Becoming clearer about your feelings can help you to make difficult decisions and come to terms with difficult or upsetting life events happening now or in the past.
Understanding repeating patterns in your life can also help you to change these patterns if that seems helpful. Becoming more aware of your thought patterns and learning how to be kinder or more compassionate to yourself can feel liberating.
Appointments are usually 1 hour long and 1 week apart, but this can be fortnightly or monthly. Much of the "work" happens between sessions when things may start to make sense or fall into place. Sometimes clients change things in their lives and the next session may be spent on how those changes feel.
Fees are £50 per hour.
I also offer Person- Centred Counselling Supervision.
Fees for supervision are £50 per hour with reduced fees for counselling students.