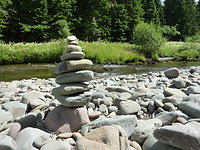 Mindfulness and Self Compassion
It seems that mindfulness is everywhere just now - or at least that lots of people are talking about it. Mindfulness has been around for at least two thousand years, so why is it attracting so much attention? The reason for this is the consistently positive results reported by many research studies into the use of mindfulness and compassion in a therapeutic context and in daily life. My first serious encounter with mindfulness was over 20 years ago, before I trained as a therapist. More recently, I have engaged in an in depth study of these approaches as part of an MSc with the University of Aberdeen and the Mindfulness Association. This in depth study of secular mindfulness, compassion and insight has been a very positive personal experience and has greatly influenced the way I work with clients.
Mindfulness and self compassion are powerful tools which are becoming more widely used in many walks of life, but can be difficult to learn from a book, especially if you are going through turbulent personal times where mindfulness can be particularly helpful. I can help you understand how to incorporate mindfulness practices in your daily life in an individual way which can reduce stress and anxiety, improve concentration, help with pain management and improve your quality of life.
Walking a Labyrinth is one way of experiencing mindful walking. I facilitate Labyrinth workshops where participants have the opportunity to experience a period of calm and quiet reflection. Participants often find this a peaceful, reflective time when decisions can be made, ideas can be explored and difficult aspects of our lives can be addressed.
I have a professionally recorded CDs of mindfulness and compassion practices taught on introductory mindfulness courses. Clients often find this useful to guide mindfulness practices between sessions or while attending one of my mindfulness courses. These are available to purchase for £7.50 each plus P&P.
I offer Mindfulness coaching for individual sessions where clients are using mindfulness and self compassion to develop self awareness and implement change in their lives. I have a PGDip in Mindfulness from Aberdeen University and am a fully trained Mindfulness teacher. As a member of the Mindfulness Association my mindfulness teaching is supervised.